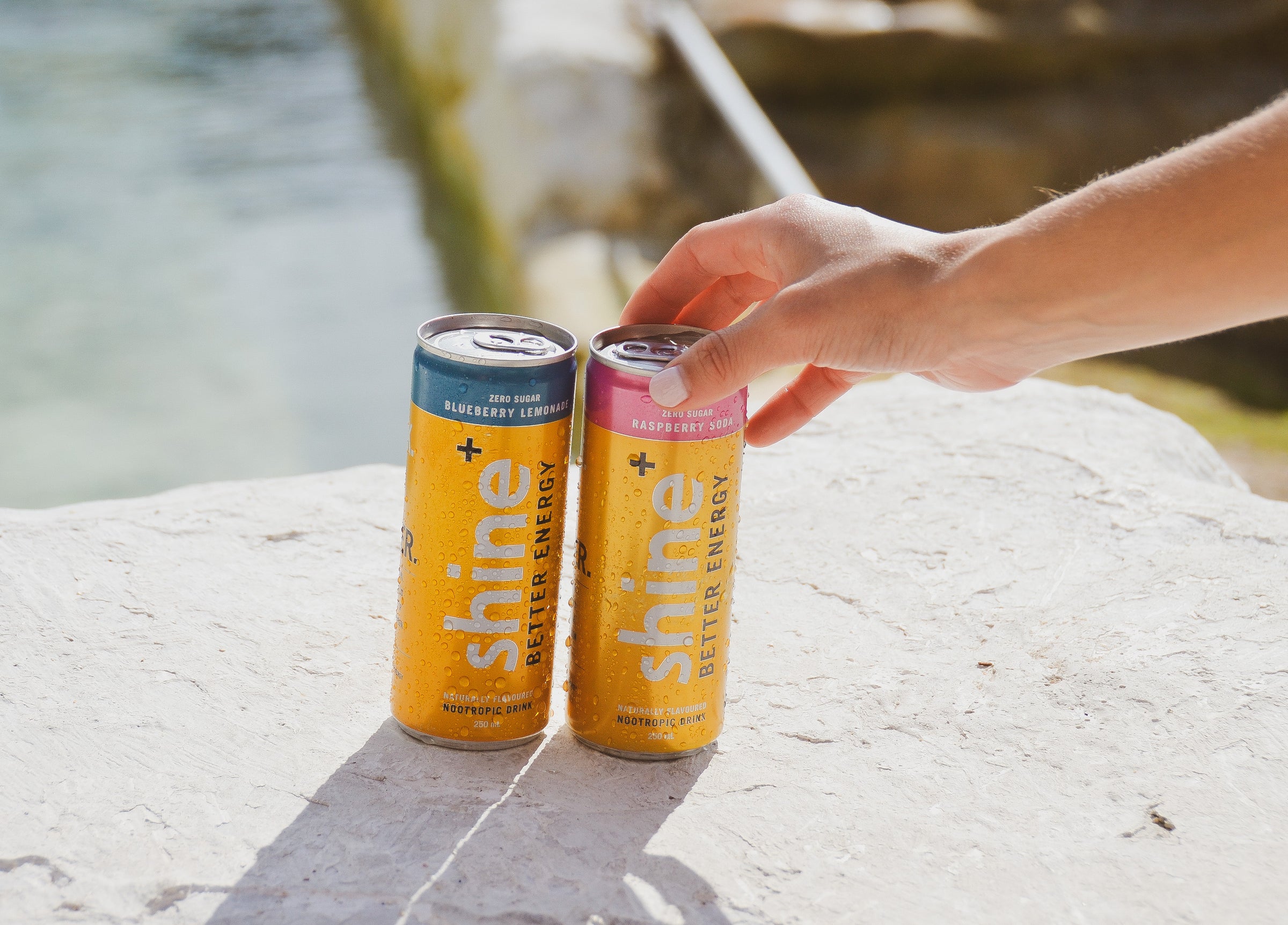 Frequently asked questions
Shine+ is a functional beverage because the ingredients are extensively research backed and have been shown in independent, peer-reviewed studies to benefit the mind and body.
Yes, Shine+ offers a better energy experience with natural caffeine. Each Shine+ collection contains a different amount of caffeine.
100 mL Shot: 32 mg
250 mL Can: 80 mg
330 mL Bottle: 106 mg
500 mL Charged: 160 mg
Our mission is to eliminate bad energy and provide a natural nootropic energy drink!
Nootropics are compounds that enhance mental performance, memory recall or learning capabilities. Shine+ uses a number of evidence-based, natural nootropics.
To find out more click here.
+ Caffeine
+ Gingko Biloba
+ Siberian Ginseng
+ Green Tea
+ Turmeric
+ Yerba Maté
Shine+ offers a range of distinct flavour profiles for each drink. If you are unsure which flavour to choose, we recommend ordering a mixed case to try out the delicious variety firsthand!
You have the freedom to choose how you enjoy Shine+. It is completely up to you! Our 500mL Charged range is perfect for sipping while working or exercising. For a quick energy boost, opt for our 100mL Shine+ Shot, designed to be finished quickly. We also offer our 330mL and 250mL options. Shine however you like, whenever you like! 
Shine+ should be kept out of direct sunlight, but does not need refrigerating (best served chilled - no one likes a warm drink). Although if you don't finish it in one sitting, it's best to put it in the fridge after opening. 
The calorie content of Shine+ drinks varies across different flavours and collections. We recommend checking the nutritional information on the back of each bottle or can to determine the specific calorie/kilojoule content before consumption. Whilst all our drinks are naturally low in sugar, our 500 mL Charged range are all zero sugar. 
Shine+ is proud that we are 100% free of artificial flavours and/or colours.
Yes! Shine is Gluten  Free.
If you're ready to shine, click here to order online or find Shine+ at 7000+ outlets across Australia, including:
Woolworths
Coles
Ampol
7-Eleven
Coles Express
Zambrero
IGA
Harris Farm
United Petrol
BP
And more!
Standard shipping times apply
Standard metro: 1-3 business days
National: 3-5 business days
We do offer Express Shipping for an additional cost. In peak times our courier service may face slight delays. We try to avoid this, but if you think your order is M.I.A, please contact hq@shinedrink.com.
If there is an issue with your order please let us know! Please email hq@shinedrink.com to get in contact with us. Please make sure to include your order details (Order Number/Name/Address).
Shine+ is always looking to expand into new stores! If you're interested in becoming a stockist or wholesaler for Shine+ - then please get in contact with us by clicking here.
Still have questions? 
Just email hq@shinedrink.com and we will get back to you!